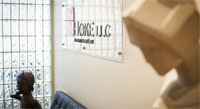 Hoke LLC is a focused boutique policyholder insurance recovery firm with six attorneys and two analysts, (multiple staff members have MBAs). All of its senior lawyers are former partners of big law firms.  Stephen Hoke is a nationally recognized expert in insurance recovery, corporate successor liability and mass tort consulting. Steve is a graduate of Georgetown University Law School and has an MBA from Northwestern / Kellogg.  Jacob (Jake) Mihm has 13 years of complex litigation experience and was a partner at Ungaretti & Harris.
Hoke LLC has represented many major corporations and venture capital firms in the manufacturing, chemical, aviation, consumer product and financial services industries in insurance coverage litigation. This representation includes coverage issues involving environmental contamination, including PCB, TCE, DBCP, PERC, and pesticides; product liabilities, including asbestos, talc, food additives and other products; and work-out and corporate successor liability issues. We have extensive experience in coverage issues such as number of occurrences; applicability of pollution and product liability exclusions; and trigger, exhaustion and allocation issues.
Hoke LLC has served as National Coordinating Counsel for a major asbestos defendant, and has represented clients in D&O/E&O.  We represent financial institutions and investors in financial and failed bank litigation as both plaintiff's and defendant's counsel.  We recovered nearly $30MM for individual plaintiffs in minority shareholder litigation. Stephen Hoke has served as a defense expert witness in a $20MM securities arbitration and as a consulting expert to a major law firm in one of their client's high profile sexual abuse claims.
Hoke LLC has recovered over $375MM for its clients in the last six years. Serving as Insurance Litigation Counsel, National Coordinating Counsel, and recovery consultants, we have vastly reduced expenses and streamlined processes for our clients. We are at the forefront of the increasingly critical field of historical corporate successor liability analyses.
Hoke LLC is nationally known for identifying creative solutions to intractable legal problems. We do not limit ourselves to traditional responses to seemingly insurmountable legal problems and instead actively seek unconventional but effective solutions.
We have a long list of satisfied clients as references who can attest that we go above and beyond the traditional law firm approach.
We collaborate with our clients for their ideal fee agreement.  We are willing to consider any reasonable fee arrangement from traditional straight hourly, to blended, to full contingency only on recovery.